Patio Covers
For years, S. N Design & Remodleing Inc. has been serving the Los Angeles market building custom outdoor structures to fit the way you live. Whether you want a patio or an entire outdoor living area combining several structures, we're here to help you concept and plan and then we build to your satisfaction.
Our consultation is completely free. On your consultation, we will discuss what you're looking for and provide ideas and recommendations based on our experience and design expertise. Every client receives a design drawing and detailed specifications so you know exactly what we are building.
We are licensed, insured and bonded contractors, maintaining professional standards and guaranteeing your FULL satisfaction.
Free at-home estimate with no obligation for payment.
We complete your project in 1 week and offer life time workmanship warranty.
We work with high quality materials and specialize in: Alumawood patio covers, traditional Wood patio covers, Vinyl patio covers, Aluminum patio covers.
Get concrete slab or stamp concrete under your new patio.
Choose among our many options: lattice or solid roof, ceiling fan or light fixtures, we do it all!
Patio covers, sunrooms, and various types of enclosures are a great way to make fuller use of your outdoor spaces. Family and guests alike will enjoy their attractiveness and functionality and their ability to bring together some of the best aspects of outdoor and indoor living. The value they add to your home will also be significant, and the cost is generally much less than a full room addition or remodeling job.
At S. N Design & Remodleing Inc., we can assist you with both the design and construction phase of your new outdoor area. We are fully familiar with all of the common features and are also able to customize each project to the homeowner's exact preferences. Also, we make sure your new structure attractively blends in with or complements your home's exterior and the surrounding environment.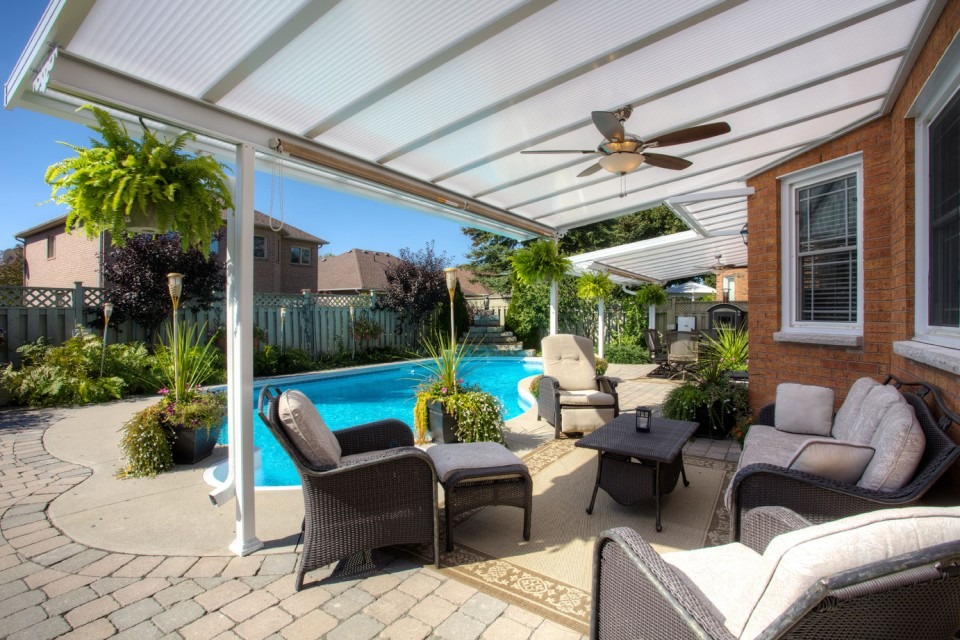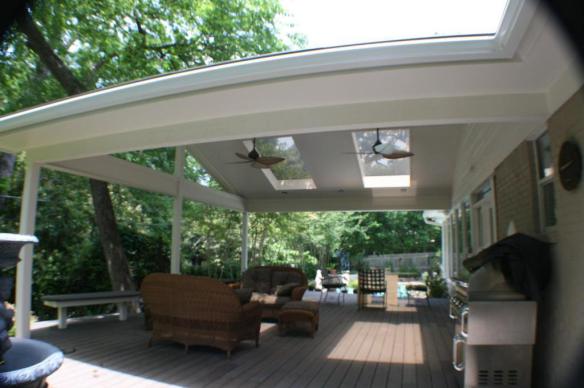 The Benefits of Patio Covers
Whether as part of a new patio installation job, a patio remodeling project, or simply adding the patio cover itself, having a patio cover installed will bring with it a number of important benefits, including the following:
A cover over your patio will shield the stone, concrete, or brick of your patio from the weather and prolong their lifespan. The same can be said for putting up similar covers over decking.
Patio covers also protect you and your guests from the elements. Rain, puddles, excessive heat, sun glare, UV rays, and wind are all diminished, making your patio usable year-round and comfortable to relax on during all but the harshest-weather days.
Your patio furniture is better protected from UV light that can cause it to fade, from wind-borne dust particles, and from drenching rains.
Patio covers reduce the amount of heat entering your home through windows in the wall adjacent to the patio, and yet, many models still let in plenty of sunlight.
A covered patio allows you to get your garden plants started in a relatively sheltered environment so they can quickly thrive once you plant them in the ground. A patio cover is also a wonderful spot to keep your potted plants permanently.
Enclosures, Sunrooms, and More
Not only can we protect and shade your patio with a strong, decorative cover or pergola, but we can also enclose an entire outdoor area to make it a room all its own.
Such enclosures can attach to the back of your home and act as an "intermediate" zone between indoor and out. They can also enclose your outdoor pool, while leaving plenty of room for pool surrounds. You will increase the use of your pool by making it year-round and keeping out bad weather, as well as leaves and wind-blown debris.
For sunrooms, the framing may be of a variety of materials, including aluminum, wood, brick, and masonry, and the paneling is often of impact-resistant, energy-efficient glass. Because natural light will enter freely, spending more time in your sunroom will save you on your energy bill, and the glass panels can be tinted to filter out UV light.
Finally, note that S. N Design & Remodleing Inc. can also install new screen rooms, re-screen existing screen rooms, build carports and sheds, put in new patios (including in stamped concrete or stone pavers), and repair your current patio and/or paved walking paths. We can handle all of the electrical work for a new enclosure, put in ceiling fans, and do everything else involved with patio covers, sunrooms, and enclosures of every kind from A to Z.
Cover & Enclosure Gallery